About KAMsnaps
* Renowned Customer Service
* Extensive Selection
* Expert Knowledge Base
* Ecologically Conscientious
* Charitiable Giving
* Testimonials
* Privacy Policy
* Trademark and Copyrights
Renowned Customer Service: "In a day and time where customer service is a dying art, Kamsnaps® takes care of their customers like they are a best friend or family member."
We are a fully licensed small business, 100% family run. While we might have started out solely as a "store," over the years KAMsnaps® has become more like a community, thanks to our incredible customers and followers.
We pride ourselves on our excellent, personalized customer service (see more testimonials below). We know selection and prices don't always mean much if you can't find the support you need when you have a question or a problem arises. We reply to all inquiries within 24 hours and most within just a few hours. We also usually ship 6 days a week (and the only reason we don't ship on the 7th day is that the post office is closed). Since we're located right here in the US, domestic orders usually arrive in less than a week.
Our success is owed completely to our customers and we never forget that. [Back to top.]
Extensive Selection: "I have never been so happy with a product in my entire 50 years of sewing."
We are the original KAM Snaps® store. Based in California, we strive to provide a large selection of and best prices for heavy duty polyresin plastic snaps, line metal snaps, professional snap presses, hand snap pliers, pacifier clips, and other quality KAM products.
Whether you have a small personal project such as making baby clothes or converting the aplix on your cloth diapers to snaps, or you are a large company who manufacturers commercial products with snaps, you'll find virtually all the snap-related supplies you'll need here at KAMsnaps.com. We offer wholesale discounts on volume orders, and also sell to co-ops.
We have a wide selection of size 14, 16, 20, 22 and 24 snaps and over a hundred different colors, including our very own custom snaps to match bumGenius, gDiaper, and Fabrite PUL colors. We also periodically offer engraved snap designs and fun shapes like flowers, butterflies, hearts and stars. Most, if not all of our products, including snaps and clips, are CPSIA compliant when applicable. [Back to top.]
Expert Knowledge Base: "Your site was very impressive, especially, in the amount of helpful detail you provided. Your attention to detail speaks volumes for the respect and desire you have for your customers' success."
We remember when we were new to snaps and how confused we were. Without a source of clear and concise information, we had to flounder through. It turned out to be simpler than we made it out to be in our heads, but precious time was lost in figuring that out. Remembering our frustration, we set out to provide as much information as we could in simple-to-understand terms so that our customers could be spared some of that confusion.
The information provided at KAMsnaps.com is the most in-depth information you'll find anywhere for snaps. Not only do our own customers refer to it, but so do the customers of other snap stores and brands and even our competitors. We're not just a store; we're a resource.
We have years of practical hands-on experience using the products we sell in our own personal lives, but beyond that, we listen closely to the questions our consumers ask, the problems they encounter and the feedback they provide. We don't have all the answers but do continually learn from our own experiences as well as those of our customers. The information on our site is constantly being modified and added to so that it remains current and tailored to the needs of the general snap user. [Back to top.]
Ecologically-Conscientious: "Great business and great morals, you've got a customer loyal to you!"
Every individual can make a small dent in reducing our ecological footprint, and it doesn't have to cost more to do so. We recycle and reuse packaging material whenever possible, which keeps costs down as well as reducing waste.
Our products are simply packaged, without the use of unnecessary printed ink, dyes, or big, fancy packaging which may look pretty but almost always end up in the garbage. Minimal packaging also helps to reduce the overall shipping size and weight of our products, which in turn reduce the amount of gas and other resources required to transport and ship them.
Our snaps themselves provide a wonderful way to reuse. They can be utilized on a number of reusable products alternative to disposables, such as cloth baby diapers, cloth mama/menstrual pads, and unpaper towels. Snaps can also be used to repair items which might otherwise be thrown away, such as anything with worn-out velcro like cloth baby diapers, and broken buttons and zippers on jackets, shirts, and pants. Visit our Tutorials and 101+ Snap Uses for some great ideas shared by our ever ingenious customers. [Back to top.]
Charitable Giving: "We admire you for your kindness and generosity to those in need. Keep up the good work, and know that KAM Snaps is making a difference in this world."
We believe every person can have a positive impact, in big ways but also in a hundred small ways. We are proud to support charitable organizations and individuals who have a desire to give back to the community, both close to home and in distant regions. And we are proud to know that many of our customers so sincerely advocate for and generously donate their time and resources to a number of worthy causes.
There are many charities we support on a regular basis, but the one our family has the most personal connection to is the plight of homeless pets. We founded and actively volunteer with Walkin' the Bark Rescue, a 501(c)(3) organization that provides second chances (and sometimes third and fourth) for once-unwanted dogs. We are currently mom & pop to 3 rescued forever dogs and an ever-changing array of foster dogs, much to our delight.
As odd as it may sound, KAMsnaps® was borne from our volunteer work with homeless dogs, particularly those with special needs. When we rescued our first physically handicapped dog, a partially paralyzed 2-legged and incontinent terror named Popeye, we had to think outside of the box and created special gear for him, many of which utilized snaps.
We began to share the ideas behind our (badly sewn) creations with other caregivers of handicapped pets. Because of this, the demand for snap supplies, which were not readily available at the time, slowly grew and KAMsnaps® was created.
Proceeds from KAMsnaps.com go a long way in helping to fund our rescue efforts, which are mostly covered out of our own pockets. We thank you sincerely for your support.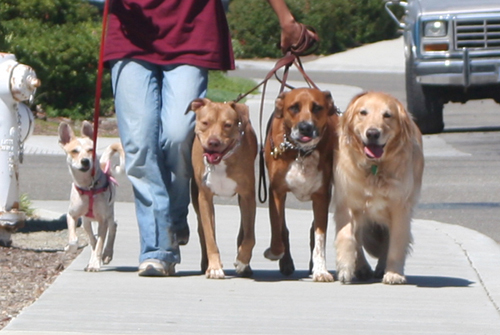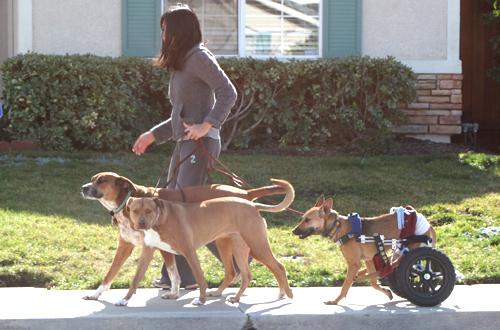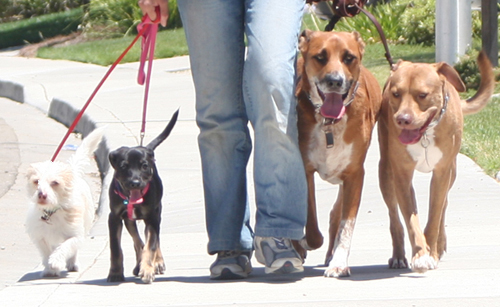 To keep up with the latest news at KAMsnaps® and to become a member of our ever-growing community, visit us through:
Here are some of the things our wonderful customers have said about us over the years. We welcome and appreciate your comments!
"This is my first time ordering with you guys (and using snaps). I will HIGHLY recommend you guys. Your customer support is amazing and coming from a retail background I know how difficult it can be sometimes to meet everyone's needs with such speed and etiquette. Thank you so very much for your kindness and for the pride you show for your work."
"Hello: I received the best customer service I have ever experienced from [Judy]. So, I ordered 300 long prong size 20 snaps. I also plan to give a K2 pliers set to a friend for her birthday in May. So, watch out! Sales might soar when word gets around the SF Bay Area that Kamsnaps is super. The website is excellent and the supplemental Youtube videos are too. I joined Kamsnaps Facebook elite. Thank you to [Judy] for her prompt replies and patience. ps: I will gladly do TV commercials for a nominal fee! Ha!"
"Oh my goodness, the rumors are true, you ARE awesome!!! Thanks so much. So excited to be a customer."
"I really appreciate you double checking with me on this. I think many companies wouldn't even care and just send it out, so I honestly appreciate it. I also appreciate how responsive you are with answering emails…day and night…impressive. We sort of work around the clock too and it's refreshing to see someone out there who really cares about their customers."
"Just received my pliers and snaps yesterday as a new customer. One of the pieces was broken. I contacted customer service this morning about it and they (Judy) were so polite and helpful! The problem was solved within two hours of me contacting them, probably would've been even sooner if I had been checking my email more frequently. Most places take at least 24 hours to return an email. I am very happy with my purchase and their customer service! I can't wait to snap everything! Thanks so much Kam Snaps & Judy!"
" THANK YOU for your OUTSTANDING CUSTOMER SERVICE. What a pleasure dealing with your company. I admire your support for rescue dogs. I understand why you have so many outstanding reviews. Many THANKS! "
"Your excellent service, fine produtst and attention to customer service are really appreciated by our sewers here in central Iowa (Days for Girls)!"
" You have excellent customer service and I love love love your products! Perfect for my baby products! And coming from an owner of a business myself, I appreciate your products & amazing customer service! "
"I just want to take the time to thank you so much for your amazing customer service. I have dealt with a few companies lately who could learn a thing or two from you, so it's nice to have a great company like yours that you can rely on."
"Thank you so much! I see your company is 'more than fair'… which makes you stand out, WAY above the crowd in today's business world. You're setting a fine example. Thank you."
"WOW!!! I placed my order on Friday afternoon and I got it today (Monday). You're quicker than Santa! LOL. Thank you for always being so quick and awesome."
"Greetings KAM Snaps Family,
We recently placed our first order for snaps and they are awesome; I'm thinking of all kinds of things I can put them on! I was unsure about plastic snaps until we tested them, but they are perfect for our new product and I expect that we will be ordering many more in the future.
Like you, we are a small family owned business (3 years old) and our approach is much like yours, we try to befriend every customer and vendor. I'm excited about doing business with you guys and I think KAM Snaps is doing a great job - good prices, fast shipping, thorough info on the website and a friendly attitude.
Keep up the good work, and remember, you always have friends at FASTFIRE Camera Strap!"
"Sitting relaxing thought about you Judy ...decided to send a line or two to let you know that I have worked with many people...your patience and understanding towards business is perfection. you have taught me a few things how to come around people and their ideas. Thank you !!!!! The snaps are the best we've ever had. We do all or most of our own sewing and that is just what we needed, snaps that would still look brand new after 20x of daily washings. WOW...."
"Thank you so very much for your awesome customer service!!! My replacements came just in time so I could finish Christmas presents for my nieces and they loved them! Thank you so much!!!!!!! Mostly because of your great service my mom will soon be ordering from you."
"Four words: BEST CUSTOMER SERVICE EVER. I am a permanent customer. Thank you!"
"I can't thank you enough for what you have done for me. I couldn't have done it without you. Who knows what I would have ordered if you wouldn't have explained me through everything. I am so grateful for what you have done and that little surprise at the end that was pleasant and appriciated. Thanks a million for everything."
"I very much appreciate the prompt attention. I would add that your website is outstanding in terms of clarity. Being new to the whole KAM snap concept I had no problem figuring out all the "how, why and what." This all started for me when I went looking for an alternative to metal snaps -- something that wouldn't corrode in harsh conditions. Your website had it all in one place."
"I can't tell you how highly all the people from Days for Girls talk about your amazing company and customer service! It is so refreshing to know there are companies that truly care and are willing to go the extra mile in helping people help others. Thank you so much for being that kind of company!"
"Thank you for supporting Days for Girls. We love your generosity and kindness. We have women all over the place using your snaps to make re-useable feminine hygiene supplies for girls all over the world. THANK YOU for helping."
"You both are so awesome and so sweet - the most wonderful business we have ever worked with for Gracie's Gowns and the reason we buy over and over again and send so many people your way!"
"I love your products and your more than fair prices. You are the best place I have had the pleasure to deal with in my 53 years of sewing."
"I totally love how you treat your costumers thank you so much ????"
"Your site was very impressive, especially, in the amount of helpful detail you provided. As an old computer systems software designer (basic business type applications from 1960 - 1990), your attention to detail speaks volumes for the respect and desire you have for your customers' success. It's almost always true that a happy customer will be a lifelong customer and friend."
"I just want to say thank you for your FANTASTIC customer service. I have ordered several times with no problems, but there was a minor mixup on the last order. Emails were answered within minutes and the problem resolved before the day was over. Thank you so much!"
"Aloha, I would like to say that you have the sweetest, most efficient, customer friendly website I have ever come across. Also, the fact that you save pooches just adds the frosting on the cake. Mahalo nui loa for a breath of fresh air on the Internet."
"Just wanted to commend you on your site and rescue work. Absolutely fantastic. I was browsing the site today to put together an order and got completely side tracked with the sweet dogs. My last order of the starter set has me completely hooked, now just plain white snaps are not enough hence my shopping. Thanks for being a great place to shop and an amazing haven for dogs! "
"Fabulous product. We are developing a sanitary napkin plant in Uganda and are planning to use Kamsnaps® in our manufacturing process because of the great quality and service."
"KAMsnaps®are the only snaps I have ever used, since February 2010 when I started my company. The quality is amazing, customer service even better, and fast shipping!"
"I just wanted to say how much I appreciate your amazing customer service and incredibly speedy shipping!!! I never fear running out of snaps because I know I'll get them fast when I'm in a bind. Thank you for being so reliable. It makes my work so much more pleasant."
"Just have to say that Judy is the best ever! Seriously amazing customer service and super fast too! Thanks for being awesome!"
"KAMsnaps.com is a wonderful company to do business with. Their on-line store is easy to navigate, and the ordering process is quick and painless. My order was shipped in less than 24 hours from the point of purchase and arrived well packaged in a waterproof envelope within 3 days. I did have one small part missing from my order, so I contacted Customer Service via e-mail. They were very prompt and courteous in their reply and immediately mailed me the missing part at no charge.

In addition to offering quality products and fantastic customer service, the KAMsnaps® website offers "How-To" videos on the use of their products. The site also links to their KAMsnaps® blog and Facebook page where customers can share their KAMsnaps® projects, ask questions and get information about sales, promotions and awesome giveaways. In my personal opinion, the KAMsnaps® company is the perfect example of what I like to see in a company: quality products, great turn-around time on orders, friendly customer service and community minded support - I am pleased to consider myself a loyal customer - KAMsnaps®Rock!"
"You truly are an awesome company run by some pretty remarkable people and I'm so glad I found you."
"I love ordering from KAMsnaps® when I am in a pinch for fast turn around. Every order I have placed with them has shipped same day with no errors. In one instance, I thought a part of my order had been missed, emailed and was given a courtesy store credit, even though the packaging indicated all items had been sent. I later found the item in my house (buried under mounds of fabric). I will surely be ordering from Kam again!"
"It's awesome that there are great people and companies out there. If there is some way to properly thank you I would love to do it. Thank you again!"
"Thanks again for your incredible helpfulness and prompt responses - they really helped me to decide what to order! You all truly have great customer service!"
"This seller is absolutely fantastic. I messaged them outside of business hours to have my order customized and received an immediate response. My order was shipped quickly, exactly as I had ordered it. Couldn't be happier with this seller and will definitely be buying all my snaps from them from now on. "
"KAMsnaps®is my favorite place to buy snaps for my snap die press. They are courteous, speedy with shipment, and the prices are very reasonable! I've referred several friends because I love supporting a business that cares so much about customer service and delivers on their promise to be the best they can be!"
"I absolutely love Kamsnaps.com. The owner is nice, helpful, and offers all kinds of useful advice. The quality of their product is exceptional and offered at very reasonable prices. They ship quickly too. You can't go wrong with this company!"
"My wife and I would like to say that we admire you for your kindness and generosity to those in need. Over the past year we have seen you donate products and money to various causes and encouraged the KAMsnaps® community to do likewise. My wife and I are not "volume" customers, but we will always be loyal to KAMsnaps® and do what we can to promote your company to others. Keep up the good work, and know that KAMsnaps® is making a difference in this world!"
"KAMsnaps® is my go-to place for an extensive range of colored snaps. I've also purchased their snap pliers and press - LOVE my press! I will continue to buy my snaps from KAMsnaps® for my cloth diaper business, honeybuns Cloth Diapers."
"They are absolutely fantastic. In a day and time where customer service is a dying art, KAMsnaps® takes care of their customers like they are a best friend or family member."
"It's always a great thing to do to help out the community, I find it great that you contribute. :) Great business and great morals, you've got a customer loyal to you!"
"I had to write to tell you that I love dealing with your company. It has always been a pleasure and all transactions have been so easy, shipped accurately and in good time. Even times I have asked for a correction to an order (when I have made a mistake in ordering) you have been fantastic at correcting the order to ensure I have what I want/need in my order. Thank you so much for your woderful customer service!"
"You have the best customer service ever! I am so glad that when I first started my cloth diaper and cloth pad making journey that I decided to go with Kamsnaps! I will continue recommending you to all of my friends. Thank you for all of your help! "
"Thank you!!! I love the customer service & speed from KAMsnaps®. I bought from other stores before I shopped here. They do NOT compare!!! I never went back to them after KAMsnaps®. Really, thank you so much!"
"Thank you!! I'm so happy I found such a great company to do business with. The videos were SO helpful in figuring out what I needed ;-)"
"Thank you SO much for your excellent customer service and above and beyond troubleshooting with my press. You've earned a customer for life :)"
"I have been sewing for almost 20 years and I always hated snaps and would not do clothing or any item that needed them. Since discovering your snaps and the pliers, I literally am in heaven. I cannot believe how easy they are to use and I will never look back. I would love to have others discover how easy these are to use as well as I hear the same complaints from others. I used to throw away more snaps than I ever used because the just would not apply correctly. I have yet to throw away one of your snaps!!"
"You have been a dream for customer service! I worked for an online retailer in the customer service department so I appreciate that you are fast in your solutions and replies."
"You are amazing, the turn around time on orders and shipping is great! Love the colors and price on these snaps!"
"Love KAMsnaps®!! Your products are wonderful and quality is amazing! Customer service goes beyond expectations and that is nice to find now a days!! Thank you!!"
"Just have to say I am very impressed with the amazing customer service from KAMsnaps®!! After informing them of some snaps missing from my order they immediately sent out replacements with 3 weeks from the time of my original order to final delivery of the missing snaps (and I'm in Canada). I will definitely be a continuing customer. :) Thanks KAMsnaps®!"
"I use your snaps for nearly every single product I sell. The most popular item by far are my reusable towels. Have been selling them for nearly 3 years now, every single set with snaps from your store! Thank you for the always dependable and super fast shipping and order fulfillment! :)"
"So very very happy with your service. Was excited with my 1st order and very surprised with the speed of it"s arrival. One week - all the way to Australia!!!!! I could not wait to get started with them and have been merrily snapping away! The snaps work perfectly on my children's clothes collection and are so easy to apply. A fantastic and economical alternative and to buttons. Thank you do much! I am a very happy customer and will be ordering again."
"I just wanted to thank you for being so patient and helpful while I tried to figure out which of your products worked best for the project I was working on. With the exception of the first color I received in both studs and sockets, everything else has worked perfectly!!! I couldn't be happier, or more pleased! Thank you!! ♥"
"I just want to say that KAMsnaps®customer service is beyond superior. I received the wrong order and Judy was kind enough to work with me right away and get everything squared away! That was awesome!! Best customer service I've had in a LONG time! Thank you!"
"A perfect example for all sellers! EXCELLENT service ! Bravo!"
"If you're stumbling across this page or the KAMsnaps® website, stumble no more! I love their variety, the ease of ordering, the staff is super quick to respond to questions, and they're super helpful. Shipping times? LIGHTNING FAST! A friend sent a slightly different press from Amazon two days before I ordered mine from KS and guess which got there first? KS! I will not order snaps or related accessories from anyone else ever again! KAMsnaps® has my business for life!"
"I just want to say thank you for being so responsive in my recently new purchase of the KAMsnaps®press, with all the questions and how soon your responded to me. When I finally learned what I was doing wrong by reading all the information provided on your site, as well as the you tube videos, it was so easy. I simply love this press, use the size 20 or 24 steel I believe for them, as well as I recently purchased a size 20 die set for the plastic snaps and ordered them, I just love the way they snap and the professionalism, and I don't have to worry about the snaps falling off my bags. I will continue to buy snaps from your shop and hopefully you will be there for many years to come. Thanks again. I am thoroughly thrilled with the snap press and all the snaps!"
"I've ordered through KAMsnaps®for over 2 years now and have had at least a dozen transactions. Each one was shipped immediately and in my mailbox within 2-4 days! Outstanding!"
"I find that your website is so well explained and full of all the info one needs - including the tutorials - to determine what one needs and how to order it properly. I think your website is a true rarity. "
"We love your snaps! I just wanted to let you know what a great product you have. Diapers I made with your products almost 6! years ago are completely trashed after 2 kids and thousands of wearings but the snaps work and look like brand new. We tried a new brand (cheaper) snap last spring and were devastated when we had to completely rip out and re-do (using kam snaps) all the snaps because the new cheap snaps were, CHEAP! Love your colors, love your service and communication!! Thank you thank you and thank you."
"I wanted you to know that I just got my press and was absolutely shocked at how well the plastic snaps work! Even on my leather bracelets! It is so nice to find a product that performs better than I ever expected!"
"My order had arrived yesterday. Thank you very much. I had more than enough to do my cloth diapers from my first order, but, these snaps are so cute that I decided to have extras on hand just in case any other projects arrises."
"We are so much happier with your fast response and service. We ourselves are customer oriented and find it such a pleasure to be treated in the same regard."
"I want you to know that I truly appreciate companies like yours who embrace quality customer service. Your attentiveness in this matter has won you a loyal customer!"
"I just bought my snap pliers and snaps on 06/13 so I am new to the KAMsnaps®family. I may be new, but I assure you I am loyal! I will never consider using the metal snaps that you can buy locally ever again. Even my kids are mesmerized by the "magic" snap pliers after watching mommy pitch fits of frustrations with the crap snaps!!! So glad that I found your company and took the plunge."
"I just wanted to take a second to let you know that I love your site and your product! I think that your service and shipping is second to none :) thank you for doing such an amazing job! It is so great to know that when I need snaps in a pinch I can usually have them almost overnight (lol...it seems like I get them the next day since I am in CA too!)"
"My order was processed with lightning speed and arrived super fast. I ordered on Friday and received it on Tuesday! The "2nd quality" pliers and awl are in great condition, the rusting is minimal and the new replacement hinge is brand new and shiny. The colors of my snaps were very accurate on screen. I am very pleased with my mixed engraved caps and even received 4 cute little lion caps in the mix that aren't pictured on the site. And I love the paci clip; very sturdy and strong!"
"Thank you so much for having an excellent product at a good price. You make it easier to make my product."
"I ordered a pair of snap pliers on Friday and they arrived on Monday. That was the fastest shipping I have ever received! Fantastic. I order from you guys a lot and you haven't let me down yet. Loving it!"
"WOW! I just got my pliers yesterday and I already have put snaps on a diaper and I am so impressed with the ease! The tool is wonderful even being supposedly second quality and I replaced the piece in a couple of seconds and it's perfect. The snaps are great and you will be my go-to company for snaps! Thanks again for making such a wonderful project. I can't wait to come back in a couple of months and buy the snap press!"
"I just used your AWESOME press and snaps last night to snap over 70 bibs I am finishing for a show Friday!! They are WAY better than velcro! "
"THANK YOU!!! I have placed several orders with you and they always come SUPER FAST!! I just ordered on Sunday, they shipped Monday, and got here today! I am amazed with how fast you work! I really appreciate it! My 5 year old daughters and I love to rip open our package of snaps and dump them on the floor. We love looking at all the awesome colors!"
"I just wanted to drop you a note and let you know I have never been so happy with a product in my entire 50 years of sewing. I have been making onesies and diaper covers and using your wonderful snaps and snap setter. It was very economical and easy to use. I will recommend your products to anyone I know that sews and uses such products. I just bought a box of plastic snaps at JoAnns a couple of days ago and returned them after finding your site and ordering from you. Your shipping was extremely fast as well. I guess I am just trying to say thank you for offering such great products at such affordable prices."
"LOVE all products that I bought! I was horrified that I was going to have no idea how to use the snap pliers but it was so easy. The snaps are the highest quality and I am also switching to you as the supplier of my paci clips too! Thank you so much. I will without a doubt be back for more!!"
"I placed an order with you guys a couple of days ago and got it today...amazing!! so fast...thank you... I will be shopping with you guys exclusively...and I will be sending my friends!! thank you... "
"I could not believe the excellent support. I received replies to emails late in the evening even on weekends!"
"Thank you again. You have been amazing =) I have never had customer service the way you have provided."
"I wish I would've ordered the press from you. Your customer service and color selection are wonderful."
"Best Customer Service Ever! Just had to say it ♥"
"Love this company! Everything professional and friendly."
"Great experience. I have ordered from them twice and both times things arrived much faster than I anticipated and was very reasonably priced. I will definitely be ordering again! "
"Awesome and outstanding customer service. "
"KAMsnaps.com rocks!! Big raves for Judy for her fantastic customer service. I checked out some super snaps on her website for my kids' winter jackets, sewed them up, and when I went back to order them, one of the kind I needed wasn't on the site anymore!!! Talk about a panic!!! I HAD to have those snaps!! I emailed right then and there to ask what was up, at 9pm mind you, and she replied immediately. Not only did she hook me up with the snaps I was searching for, she shipped the order out the next day!! I had my order SO quickly, for a good price and with a smile on my face, to boot!!! Thanks, Judy!!! That's not the only time I've emailed with questions and gotten a quick response back, but that sure was AWESOME customer service. I would recommend shopping at KAMsnaps® to anyone, any day!!"
"Great! Package came very quickly and I've "snapped" up plenty of my diapers.. So awesome! =] "
"Great product and fast shipping! I love my KAMsnaps® pliers and snaps! "
"Just what I need for my cloth diaper sewing project!!! GREAT PRODUCT!!!!"
"Love it!!!! The snaps so much easier to use than the metal ones. Fast shipping."
"fast shipping, great company! love u guys!"
"LOVE IT! It couldn't be easier to use!! This tool will make crafting so FUN!!"
"I LOVE this! I wish I would've gotten these years ago. Thank you so much!"
"I love KAMsnaps! I am very happy I found their site. I will definitely buy from them again. As a matter of fact, I need to put together another order! "
"I would absolutely buy from this seller again! KAMsnaps® has SUCH GREAT customer service, fantastic product that has exceeded my expectations."
"Enormous selection so you always find what you're looking for.. great quality.. amazing prices.. quick shipping.. couldn't ask for better service from a business :) Have had nothing but good experiences from them and plan to buy from them for years to come"
"The customer service is SO far above and beyond ALL others!! This reason is another that makes KAMsnaps® stand out above all others! They are my example when offering customer service of my own!"
"Great communication and fast service to the UK. Just planning my next order!!!"
"I have always gotten great customer service from them. Some of the fastest shipping I have ever dealt with. Wonderful products and they back them up. I only order snaps from KAM and I recently ordered new dies for my pliers as well as a ton of new snaps. It was a fabulous transaction, as always."
"I love kamsnaps, not only the snaps but their customer service AWESOME, I couldnt ask for better service and faster shipping."
"Judy was a huge help to me last night. I sent her dozens of pics and she helped me figure out what was wrong. In talking with her also I asked her about presses and she was so great and I appreciated the fact that she did not right away try to sell me on one."
"The snaps are awesome! The press is a life saver! KAMsnaps® have made my cloth diaper business possible!"
"I love kamsnaps! I am always surprised at how quick my order is processed, shipped, and received.. They are the best!"
"Judy.. you have the BEST customer service!!! Thank you so much for the prompt service and FREE delivery!! I only purchase my snaps for my cloth diapering business!! Thank you so much!! I never have any problems with the snaps not working!! Great Quality Product with Excellent Customer Service."
"KAM Snaps are awesome! They are NOT brittle like some snaps. Customer service is very helpful and shipping is fast! Honestly the best value and prices for presses and snaps out there."
"Great! Super fast shipping and she made sure I had ordered everything I needed before shipping out. Great customer service!!!"
"I LOVE Judy at KAMsnaps.com!! Her service is GREAT!!! She is where I got my press, and I will keep going back to her for all my snapping needs!"
"Wonderful customer service! I ordered a press and somehow a little screw managed to get lost en route. I emailed the company, they called me back within the hour and had a new screw in the mail that day. Gotta love first class customer service!"
"Very smooth, site was easy to navigate. I have the stuff i needed at a very afforable prices and KAMsnaps® ships fast. Thanks!"
"I love the tutorial on youtube for replacing the velcro aplix and converting to snaps so much that I am going to buy a kit. I'm very excited to have found your website."
"I received the snaps you shipped. Wow! WAY above and beyond fixing this and I thank you very much! I have already spread the word and will continue - customer service is a lost art for so many people but you were patient and fixed it - actually fixed it ++++! People appreciate that with your great product! I cannot thank you enough for what you sent!!"
"I wanted to take a minute to thank you for expediting my order for me! I got the snaps in just a few days from my order date, and will be able to finish this weekend that final order I needed to complete before my newborn is here! Couldn't have done it without you!! Your help is so appreciated! Thank you again!!"
"Can I just say that you guys have the BEST turn around time EVER!!! I ordered last Friday because SURPRISE I was out of white sockets that I HAD to have to finish up an order and they arrived safely on my doorstep on MONDAY!!!!!!!!!!!!!!!!!!!! You guys totally made my day! Woo Hoo!"
"WOW! You offer such great customer service. I really enjoy buying from you."
"I officially love kamsnaps. My pliers and snaps came today!! Great customer service, I got a great deal, they shipped for free AND were here in 2 days."
"I just wanted to say Thank You for the amazing service. I was blown away by how fast I received my order. I will definitely tell everyone how great your store is. "
"I just wanted to pass onto you that I got my order in such a timely manner, and I just love the press, the snaps, and the sample card! Absolutely, you are a joy to do business with! We just need more of you in the business world. Keep it up, you're the best."
"I just received them in the mail, and i have to say it's awesome! And it came so fast, you guys are awesome, I won't do business with anyone else!! Thank you so much, I honestly thought I was going to have to invest a hundred bucks in a snap press! You guys rock!!"
"I am becoming a snap junkie! I LOOOOOOVE your pliers!"
"KAMsnaps® is great for customer service, product selection and quality. I have never been disappointed by an order, an email, an update, any communication... Superb store!"
"Super fast getting here and I LOVE my snap press!! So easy to use. Videos on the website are great too!"
"Great customer service! July was so helpful, emails were answered super fast, sometimes within minutes!"
"I am just so excited! I just finished my first diaper conversion! It was soooo easy. I highly recommend purchasing snap pliers and doing it yourself, rather than sending diapers out for conversion."
"Super Fast Service! GREAT snaps!! Lots of options on KAMSNAPS.com! Judy is GREAT to work with, she is helpful and answers emails quick! A++ Customer service! If your looking for snaps or presses this IS the place to go!!"
"KAMsnaps® has the BEST customer service & the best pricing on snaps that I've been able to find."
"I've ordered from KAMsnaps® a few times. I LOVE their snaps; great quality, customer service, shipping rates and time! Even my husband notices a difference in the KAMsnaps® snaps when he's diapering our son. He says they snap better than my other snaps. My last order was a big one with multiple colors, monkey engraved snaps, and Ooga Booga snaps. I LOVE the Ooga snaps...now I just need to score some Ooga fabric to go with them!"
"KAMsnaps® is awesome! Super customer service and crazy-fast shipping. I check the site often for new tutorials and new ways to add snaps to my life:) I be back for more!"
"Excellent customer service from Judy, fast shipping, good prices, and my order was correct! I love kamsnaps.com and will be ordering again and again!"
"KAMsnaps® customer service is great. Very friendly and quick with help!"
"KAMsnaps® rocks!! They are a great company, and I LOVE dealing with them."
"[KAMsnaps®] is pretty awesome =) I was sent the wrong color snaps to start and thought I was going to have to suck it up and just deal with it...but she replaced them, even told me to keep the wrong ones she'd sent. A very nice change from having to just put up with it or find somewhere else to shop!"
"I recently purchased a die set and snaps for your large metal snaps and I love it! I bought my press locally in Australia but wasn't able to find the right size die kit and snaps so I purchased from you. Very fast service and it has really made my job so much easier, much easier and more professional than the saddlers punch and hammer method I was using before!!"
"KAMsnaps® has excellent customer service and very fast delivery! I will be buying from them for a long time to come!"
"KAMsnaps® shipped my order quickly. I was also impressed with their customer service when my first shipment disappeared due to a post office mistake."
"I love how they contacted me before my purchase came to make sure to watch the instruction video. Will buy snaps from there again. Thank you!"
" The customer service was excellent. I needed to add something to my order and they responded quickly and adjusted my order. The shipping was incredibly fast. I was very pleased with my order."
"Super great! Received my order quickly and was very impressed with the product. I will be shopping with KAMsnaps® again soon :)"
" KAMsnaps® has excellent customer service and very fast delivery! I will be buying from them for a long time to come!"
"Great! Super fast shipping and she made sure I had ordered everything I needed before shipping out. Great customer service!!!"
"If I ever need snaps again I will buy them here. Great product, great prices, fast delivery."
"I love KAMsnaps.com for shipping my order so quickly! They really keep a WAHM going :)"
"This item is just as it was described and the store was great to deal with. Definately on my favorites list!"
"Excelente servicio. Buena comunicacion y disponibilidad. Recomendao!!"
"Great--the shipping was super fast! And they have lots of tutorials for your benefit."
"Wonderful! Very speedy delivery. There was a small issue with my shipment, but customer service responded quickly and sent me the new item the next day!"
" It is always a pleasure to do business with these fine people. They are fast, polite and helpful; I'll be back. Besides, where else can you get KAM snaps? Simply the best!!"
"I will definitely be ordering from KAMsnaps® again. I was very happy with the service and fast shipment. I ordered on Wednesday and my order was here in the mail on Saturday morning."
" I have been buying from this seller at least twice a month for 3 months now & they are EXCELLENT. Super fast shipping, great customer service & good prices."
" Fantastic shopping experience. Shipping is very fast and the product is perfect for what we sell in our retail store of baby products. Thanks for GREAT service."
"This seller has fabulous communication & was very helpful & quick to answer my questions. The products are fantastic & i will most definitely be placing future orders."
Privacy Policy: We respect your privacy 100%. We do not share any of your information with third parties. The information you provide to us is used solely to process your orders or to answer questions regarding your orders. [Back to top.]
Trademark and Copyrights: KAMsnaps® is a registered trademark. The use of the KAMsnaps® trademark or any variation thereof is prohibited in cases where it is likely:
to cause confusion among customers regarding ownership of the trademark.

to lead to mistake and/or deception of the public as to the association between KAMsnaps

®

and any other entity.
to imply that KAMsnaps

®

endorses or supplies another entity.
to promote another entity by incorporating the KAMsnaps

®

trademark into the other entity's domain, store name, and/or associated accounts.

to exploit our intellectual property for commercial gain.

to dilute the distinctiveness of the KAMsnaps

®

trademark.
to create the potential for substantial dilution, blurring, tarnishment and consumer confusion, because an internet user reasonably may assume the domain name, store, and/or associated accounts are sponsored by, affiliated with, or somehow approved by KAMsnaps

®

.
Content on KAMsnaps.com and our associated accounts, including Facebook, Twitter, and blog is copyrighted. This encompasses but is not limited to all written content, images, videos, and tutorials. You may reproduce our content only if you clearly attribute copyright to KAMsnaps® by placing a copyright notice in a conspicuous area and by linking to KAMsnaps.com.